The epicentre of European charm, Italy enchants each guest with its timeless beauty, magnificent architecture and gastronomic experiences that await you around every corner. Most people will instantly recognise an abundance of Italy's landmarks and landscapes. All this can make choosing where to go on your first trip to Italy feel like an impossible task. 
The dream would be to spend months on end discovering the home of the ancient Romans and filling your days with cultural and historical exploration. But with work and other commitments, most of us have much less time than that.
However, if you have the opportunity to spend 10 days in Italy, in that time you will be able to experience some of the best the country has to offer. With such abounding beauty in one country, any 10-day trip to Italy is guaranteed to be marvellous.
Everyone travels differently; in between the wine, pizza and gelato, there are a number of ways to spend your time. These five itineraries demonstrate the best way to see Italy in 10 days. 
The Best Time to Do a 10-Day Tour of Italy
In reality, Italy offers wonderful experiences all-year-round. Choosing when is the best time to spend ten days in Italy can be tricky and largely depends on the type of trip you're looking for. 
The busiest time to spend 10 days in Italy is from June to August; these months are also the hottest and most humid. As this is also the high season, you can expect the prices to be higher for hotels, transport and excursions. You will also have to book far in advance as places tend to book up during this season. 
If you're looking to spend some time in the snowy mountains of the Dolomites, then the best time to do a 10-day Italy tour would be in the winter months. If you want a mix of everything, then April to June would be the perfect time to visit. Choosing to spend ten days in Italy during this period means the temperature will be comfortable to explore in and everywhere will be less crowded. 
If April to June doesn't work for you, the other side of the summer (September to October) is another great time.
10 Highlights of Your 10-Day Italy Itinerary
Obviously, there are so many more than just 10 highlights. However, to save you from reading a novel of Italy highlights, we've narrowed it down to these ones! Here are the best things to do and the best places to see in Italy in 10 days:
1. Truffle Hunting in Chianti
It's almost absolutely essential that you work in a small Tuscany itinerary in your 10 days. On this 10-day trip to Italy, you'll spend a morning truffle hunting in the San Miniato hills followed by a wine tasting in a Chianti winery. Sounds pretty perfect, right? You will meet up with an expert truffle-gatherer in the Chianti area and his inseparable dog, who will lead you for a walk in the woods. You'll then take these 'white gold' treasures back to a farmhouse for a tasting lunch.
2. Milan City Tour on a Historic Tram
If you're looking to spend 10 days in Italy starting in Milan, then what better way to kick off your tour than by exploring the city on a historic tram?Riding a beautiful old tram, you will pass by the Sforza Castle, Brera district, the imposing Milan Duomo, Galleria Vittorio Emanuele and La Scala Opera House. You'll finish this wonderful journey on Corso Buenos Aires, one of Milan's main shopping avenues. It is the perfect place to pick up a few souvenirs of your 10-day Northern Italy itinerary!
3.  Parmigiano Reggiano Tasting
This unique experience on this Northern Italy itinerary of 10 days finds you in a room where the scent of copper and heated milk fills your nostrils. Your local guide will explain exactly how the delicious iconic Parmigiano Reggiano is produced.You'll spend the day learning about cattle raising and how it creates the specific flavours for which parmesan is known. For a tasty treat, your guide will open a wheel of cheese for you to taste. Remember, the crumblier the cheese, the more expensive its price.
4. Vespa Sidecar Tour of Rome
On this 10 days in Rome itinerary, you'll spend an afternoon seeing Rome in a unique way – in a Vespa sidecar!You'll take in the best sights of Rome over the few hours of scooting around, from the Trevi Fountain to the Spanish Steps and the Jewish Ghetto. You'll also be taken to other neighbourhoods which will allow you to sense Rome's authentic soul, going beyond usual tourist attractions. You'll complete the tour in true Italian-style, at a gelato shop!
5. Godfather Tour in Sicily
It's possible to spend your entire ten-day trip to Italy touring the famous Godfather film locations. However, if that is an offer you can refuse then you can just spend one day of your Sicily road trip of 10 days exploring these fabulous locations.The Godfather tour takes you to the villages of Savoca and Forza d'Agrò, unspoiled and traditional Sicilian hill towns. As you enter in Savoca, you will see the 'Bar Vitelli' with its splendid terrace; you may even wish to stop for a lemon granita!
6. Hike the Cinque Terre
Embark on a 10-day Italy itinerary to Cinque Terre and discover its unique, UNESCO-listed landscapes on foot!For anyone that loves hiking and discovering interesting places off the beaten track, this experience is perfect. While exploring the quaint villages and towns of the Cinque Terre, you'll sample local dishes and enjoy fine Italian wines that capture the spirit of the south.
7. Local Lemon Farm Tour & Limoncello Tasting
Is there a more Italian experience than wandering through groves of lemons, olives or grapes, then returning to a farmhouse overlooking the Amalfi Coast to sample some fine limoncello? We didn't think so.If you include this experience on your 10-day Italy trip to the Amalfi Coast, you will be welcomed onto a farm that has been in the family for generations. You'll be shown around the lemon grove and be treated to a fantastic lunch, finished with a tasting of their homemade limoncello.
8. Ferrari Test Drive
You'll spend the morning at the Museo Enzo Ferrari admiring the former workshop of Enzo Ferrari's father and some of the most beautiful cars ever built. If that wasn't enough, on this 10-day Italy itinerary of fine food and fast cars, you'll drive a Ferrari 458 Italia around a circuit!
9. Gondola Ride with a Cicchetti Tasting
On this Rome, Florence and Venice tour, you'll encounter these wonderfully iconic cities in some of the most magnificent ways, this experience included. Floating along the Canal Grande, you'll explore the jewels of Venice's undiscovered corners, with its numerous Palazzi and noble families' homes constructed in diverse architectural styles. You will make a pit stop in front of a typical "Bacaro" where the waiter will give you a bottle of Prosecco with some classic Venetian appetisers, known as Cicchetti.
10. Winery Tour in Chianti
One of the best ways to see Italy in 10 days is to make sure you include a hefty dose of food and wine experiences!On this slow tour of Siena, you'll head out on a journey of enchanting places and breathtaking views. At a winery, you'll learn about the production of wine and how these winemakers make sure it is environmentally sustainable. You'll also enjoy a tasting of the region's most characteristic varietal, Sangiovese. 
With More Time?
Quite simply, Italy is your oyster! 
If you have the opportunity to spend more than 10 days in Italy, you can fill your time with even more unique, bucket-list-worthy experiences:
Tour of ancient Pompeii

Gelato-making class

Private yacht around the island of Capri

Attend an audience with the Pope

Hike Mount Vesuvius

Admire the Sistine Chapel roof

Stroll the Appian Way

Stay in a trulli

Have a photo with the Leaning Tower of Pisa

Marvel at the rooftops of Florence from Giotto's Bell Tower

And the list could go on and on
With more time, you could even incorporate another country or squeeze an Italy and Croatia itinerary into 10 days. If the Eiffel Tower calls, you could choose a France and Italy 10-day itinerary to see the best of both countries!
If your mind is boggling at the opportunities, take the stress away and let our Local Suppliers plan a trip to Italy for 10 days for you!
How Much Will A 10-Day Italy Tour Cost?
The answer to this question is very subjective as it largely depends on your travel style. The cost of your trip could be very different from the next person.
The following things will affect the cost of your ten days in Italy:
Type of accommodation (star-rating of the hotel, Airbnb, guesthouse and more)

Where you visit (the cities will be more expensive than the countryside)

When you visit (the high season will be a more expensive time to spend 10 days in Italy)

How you travel (travelling by train will cost less than private cars but more than buses)

How many tours you do (you may want to explore some places on your own)

The type of tour you do (small group tours will cost less than private tours)
If this is already beginning to give you a headache then don't worry, we have a solution. Our Local Suppliers in Italy know this country like the back of their hand. They are experts when it comes to designing the perfect trip to suit your budget, travel style and interests.
Simply connect with one of our Local Suppliers in Italy and let them know exactly what you're looking for when you travel Italy in 10 days. They will be able to digest this information and work with you to design the best 10-day Italy trip to suit you.
First Time Spending Ten Days in Italy?
Getting Around the Best of Italy in 10 Days
Despite being a large country, travelling around Italy in 10 days isn't difficult. If you are wondering what are the best transport methods to travel Italy in 10 days, then read on!
Luckily, Italy offers a number of options when it comes to your 10-day tour of Italy. You can choose to take public transportation for your entire trip, or you can catch high-speed trains. If you're a little more confident on the roads, you can hire a car and drive straight into an Italy road trip for 10 days.
Feeling even more adventurous? Hire a Vespa and embark on the ultimate road trip in Italy for 10 days! Whilst this is the more expensive option, it's definitely a very exciting journey which allows you to stop when and where you wish. If you don't want to drive yourself but want the freedom of travelling by car, you can travel with a private driver.  
The most important thing is to choose the transport mode which is best for you and those you are travelling with. Our Local Suppliers in Italy have experience in every type of trip and can easily help you organise a ten-day Italy itinerary. 
What to Pack for Your Ten-Day Trip to Italy
Packing for your Italy travel itinerary of 10 days can be difficult as it largely depends on the time of year you visit. Italy has four distinct seasons so it's best to research what the weather will be like at the particular time of year you are visiting. As a general guide:
Summer (June to August) – the weather will be very hot and humid

Autumn (September to November) – the weather will be cooler and more comfortable

Winter (December to February) – the weather can be cold and wet, with snow in the north. 

Spring (March to May) – whilst you may have a little bit of rain, it will be warmer.
The best option is to pack layers. You will then be prepared for whatever weather you might encounter on your 10-day trip to Italy. 
If you are going to be moving around, then it is best to bring a carry-on suitcase or a large backpack. This way, when you are travelling by train and buses, you won't have to carry a big suitcase around.
At the end of the day, the most important things to pack are your passports, travel documents, credit cards/cash and of course, an Italian travel adapter! We highly recommend that you have travel insurance for any mishaps that may occur.
Lastly, don't forget your camera to catch all the amazing places you see in Italy in 10 days!
The Best Way to See Italy in 10 Days
Unearth Italy's most stunning secrets on this 10-day Italy itinerary from Milan to Lake Como, Lake Garda and Venice. Big cities, beautiful lakes and magical canals await you on this 10-day Northern Italy itinerary.
Day 1: Arrive in Milan
Your 10-day trip in Italy begins in the fashion capital, Milan. You'll spend the first day exploring on foot, cycling through the city to discover the eccentric buildings that are hidden in its streets and more. 
Day 2: Explore the Wonders of Milan
On your second day, your guide will escort you around the most popular landmarks in Milan including the Duomo di Milano Cathedral and Galleria Vittorio Emanuele II. You'll pass by elegant shops, decadent restaurants and vintage bookstores, all of which you can explore afterwards. 
Day 3: Off to Lake Como
On the third day of your 10-day North Italy itinerary, you will travel by private car to the jaw-dropping Lake Como. An inspiration to artists for many centuries, Lake Como winds like a snake through the mountains and sparkles in the sunlight. 
Day 4: Lake Como by Boat
The best way to experience the beauty of Lake Como is to head out on a private boat tour. You will sail from Villa Gallarati Scotti and Villa Balbianello, a residence that has appeared in famous movies, to the lake's charming villages and its many trails.
Day 5: Sirmione Calls!
With your driver, you'll travel to the next destination on your Northern Italy itinerary of 10 days – Lake Garda. Sirmione is a resort town on the banks of northern Italy's Lake Garda renowned for its thermal baths and medieval castle.
Day 6: Lake Garda by Boat
Today will be a chance to see Sirmione from a different perspective on a private boat tour of Lake Garda. You will spend the day admiring the view of Maria Callas house, Grotte di Catullo and Boiola thermal spring from the water. You'll also stop to visit Villa Borghese.
Day 7: Travel to Venice via the Romantic City of Verona
En route to the final destination of your 10-day tour of Italy, you'll stop to soak up the romance of the city of Verona. The city is said to have been the setting for William Shakespeare's tragic love story of Romeo and Juliet. Verona is home to splendid palaces, squares and priceless treasures of art; it rivals others as Italy's most beautiful city. 
Day 8: Bacaro Experience & Gondola Ride on Venice's Canals
After a morning tour of Venice's iconic landmarks including Saint Mark's Square, you'll head off to taste some local favourites; Cicchetti and a spritz with Aperol. This wonderful food experience will be completed by a memorable gondola cruise down Venice's Canal Grande!
Day 9: Glass Making Tour in Murano
Venice is a city made up of over 100 islands. Today, with your water chauffeur, you'll head to the island of Murano, famous for its glassmaking industry. You will have the opportunity to visit a factory for an exclusive demonstration of glass making. 
Day 10: Goodbye Italy!
Today, your Italy road trip itinerary of 10 days comes to an end. You'll be chauffeured to the airport when you are ready. 
Want to explore this itinerary further? Tap here to see the full itinerary.
The South – The Best 10 Days in Southern Italy
From Rome to Palermo, this 10-day tour of Italy is about finding the best of the south. Each city you encounter, you'll take in the sights, admire the rich Italian architecture and the even richer local life. 
Day 1: The Best Southern Italy Itinerary of 10 Days Begins!
Beginning in the capital city of Italy, you'll stay close to the Vatican City, the smallest country in the world. Just a stone's throw from the heart of the Catholic world, you'll spend your first day getting acquainted with the city and its artistic riches.
Day 2: Rome's Iconic Sights & The Colosseum
Today, you'll have the opportunity to tick off Rome's bucket-list-worthy sights one by one. Beginning with Piazza Navona and the famed Trevi Fountain, you'll visit the Pantheon and the Colosseum, the largest amphitheatre ever built.
Day 3: Explore the Vatican & Make Pizza!
Your day will begin with a guided tour of the Vatican Museums and the magnificent Sistine Chapel. Don't forget to look up to see the beautiful ceiling painted by Michelangelo – a masterpiece of High Renaissance art. Instead of dining in one of Rome's trattorias, you'll learn the invaluable skill of pizza making, roman-style! 
Day 4: Two Ancient Roman Cities – Pompeii & Ercolano
Today, you'll explore the ancient city of Pompeii which was buried by a 30-foot ash cloud when Mount Vesuvius erupted. After a guided tour of the city, you'll head to the well-preserved fishing town of Ercolano.
Day 5: Day Trip to the Island of Capri
It would be hard to complete a 10-day Southern Italy itinerary without the addition of a trip to the stunning island of Capri. Reaching the island by boat, you'll spend the day wandering through the small towns with their picturesque landscapes, breathtaking views and rich culture.
Day 6: Fly to Sicily
In the centre of the Mediterranean sea, Sicily is an island that oozes beauty and grandeur. Today, you'll arrive in the historical centre of Syracuse with a private guide where you'll be staying. 
Day 7: Historical Villages and Towns in Sicily 
Next up on your 10 days in Southern Italy, you'll visit the beautiful medieval town of Taormina, overlooking the sea with its incredible Greek theatre. You'll walk to the hilltop village of Castelmola and take in the magnificent views over the Ionian Coast. You'll then head back down to the narrow streets of Taormina or go for a swim in the Isola Bella Natural Reserve.
Day 8: Journey to Palermo
After travelling across Sicily by bus, you'll arrive in the cultural capital of Palermo. You'll have the day to wander its vibrant market streets and sample some delicious Sicilian cuisine in the evening.
Day 9: Free Day to Explore Palermo
On the penultimate day of your 10 days in Southern Italy, you'll get the chance to explore Palermo at your own pace. You can visit the nearby town of Monreale and its stunning cathedral or one of the many beaches nearby. 
Day 10: End of Your Trip!
Today, your 10-day South Italy itinerary comes to an end as you are chauffeured to the airport by your driver. 
Want to explore this itinerary further? Tap here to see the full itinerary.
Travel around Italy in 10 days and experience the most iconic sights of the best Italian art cities together with the hidden corners, bars and restaurants that only locals know. Beginning on the Amalfi Coast, you'll travel to Rome, Florence, Venice and Milan on this wonderful 10-day Italy tour!
Day 1: The Amalfi Coast
You'll begin your trip by settling into one of the most beautiful Amalfi Coast towns, Maiori, a popular getaway since Roman times. Boasting the largest stretch of unbroken beach on the Amalfi Coast, Maiori is the perfect place to begin your ten days in Italy. 
Day 2: The Complete Amalfi Experience
Driving the winding road that hugs the stunning Amalfi Coast, you'll spend the day visiting picturesque villages. Once known as the Strada Statale 163, the road was originally built by the Romans. It clings to the coastline and showcases jaw-dropping views down to the Tyrrhenian Sea.
Day 3: Free Day to Explore Maiori
The entire day will be free for you to explore one of the Amalfi Coast's most beloved towns. Many people head to its beautiful beach or spend the day wandering around its many medieval churches. Alternatively, you could explore one of the other towns on the Amalfi Coast.
Day 4: Onwards to Rome
You'll leave Naples behind and make the journey by train to Rome. Once settled in, you'll board a snappy Ape Calessino, the "cousin" of the Vespa, and head off to explore the Eternal City's most iconic sights.
Day 5: Imperial Rome & Trastevere Food Tour
It's hard to imagine spending ten days in Italy without spending one of those days on a food tour. After exploring Imperial Rome including the Colosseum, you'll head out on a guided tour of the lively Trastevere area.
Day 6: Catch the Train to Florence
The sixth day of your trip will take you to Florence, the cradle of Renaissance art. You'll spend the day visiting the imposing Piazza del Duomo, the Square of the Dome and the Florence Cathedral, before heading to the quieter streets of the Santa Croce neighbourhood. This is where Michelangelo both lived and was buried.
Day 7: Tuscany Tour by Vespa!
Experience the beautiful Tuscan countryside a little differently today – on the back of a nippy Italian Vespa! You'll spend the day riding along the scenic country roads admiring the sights, smells and sounds of the Chianti region, stopping at wineries for wine tastings. 
Day 8: To the City That Floats on Water
You'll arrive in Venice by train and head off with your guide for a stroll around the city's main highlights. Of course, in true Venetian-style, you'll finish your stroll with a romantic gondola ride down the Canal Grande!
Day 9: Venice to Milan
Milan, the fashion capital of Italy, will be your next destination. You'll encounter its iconic sights in a unique way today – on the historical tram No1. It will take you from the Barre Quarter to the Milan Cathedral, Galleria Vittorio Emanuele and La Scala Theatre. You'll end the tour with an aperitif at a rooftop bar overlooking the beautiful Milan Cathedral.
Day 10: It Comes to an End
Your trip comes to an end as your driver takes you to the airport. 
Want to explore this itinerary further? Tap here to see the full itinerary.
The Wine Region – A Fine Food & Wine 10-Day Italy Road Trip in Puglia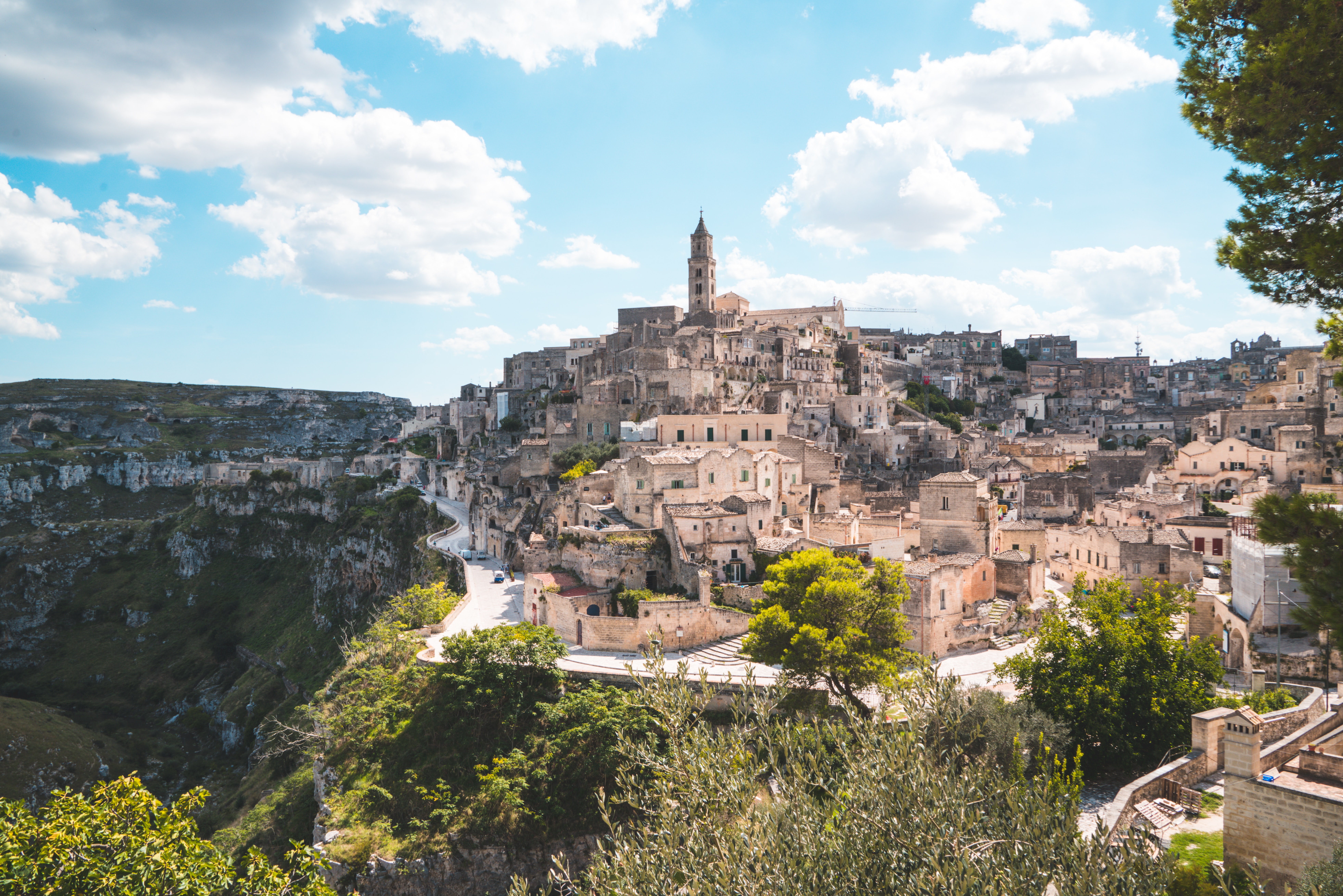 This itinerary is all about indulging in the finest food and wine as you travel around Italy in 10 days. Hugging the coast and the less-explored regions of Italy, you'll witness the best that the Amalfi Coast and Puglia have to offer. 
Day 1: Explore Vietri sul Mare
You'll spend your first day exploring the charming southern Italian town of Vietri sul Mare, known as the ceramics capital of the Campania region. A stroll through its historic streets lined with shops full of decorative tiles is the perfect way to begin your Italy trip. 
Day 2: Wine Tasting & Cellar Tour
Wine, wine and more wine is exactly what your Italy tour should revolve around. You'll begin the day with a tasting of wonderful local wines before sitting down to a delicious lunch. Later on, with a full belly, you'll head to the quintessential Mediterranean fishing village of Cetera to explore. 
Day 3: Limoncello Tour & Pompeii
Lemons and ancient cities will be the highlights of your day as you head to a local lemon farm to learn how the famous Italian liqueur, limoncello, is made. From there, you'll head to the buried city of Pompeii with your local guide. 
Day 4: Ancient Greek Cities & Buffalo Mozzarella Farms
Another day of ancient history and delicious Italian produce begins as you travel to the ancient Greek city of Paestum. It is an archaeological site dating back 2,500 years known for its remarkably-preserved Doric Templates. The rest of the day will be spent at the famous Vannulo Buffalo Mozzarella Farm to learn all about this cheese and, of course, taste it.
Day 5: Wine Tasting Tour of Puglia
Italy's title as the largest producer of wine in the world is owed much to the region of Puglia. Here, viticulture is deep-rooted in local traditions and the best way to experience Puglian wine is to head to a winery.
Day 6: Explore a Cave Winery
You will sit back and relax as you travel to Cantine del Notaio Wine Estate, where the wine cellars are located in natural caves dug out of volcanic tuff. These unique cellars guarantee exceptional conditions for refining the wine you'll taste after your cellar tour. 
Day 7: A Day of Unique Puglian Architecture
You'll spend the day exploring the unique cave dwellings of Sassi Di Matera and Alberobello, where you'll visit the Trulli, remarkable cone-shaped houses prevalent in this region. At the end of the day, you'll arrive in the charming city of Lecce. 
Day 8: Pasta Making Experience
Today, you'll learn how to make orecchiette pasta before sitting down to lunch to enjoy your creation. You'll later return to Lecce where you'll head out on a walking tour of the town often referred to as the 'Florence of the South'.
Day 9: Manduria Wine Region Tour
To begin the day, you'll head to the Manduria wine region to visit a local wine estate, explore the farm and taste some of the famous wines of the area. The rest of the day will be free for you to spend wandering the narrow golden streets and enjoying a long lunch in Lecce.
Day 10: Goodbye Italy
Your fine food and wine tour of Italy will come to an end today.
Want to explore this itinerary further? Tap here to see the full itinerary. 
Over ten days, you'll travel from the Amalfi Coast through central Italy to the capital city of Rome. Along the way, you'll explore some of the most spectacular locations that this region has to offer. The rich Tuscan countryside, the stunning Amalfi Coast and more awaits you!
Day 1: Explore Pompeii & Onwards to Positano
En route to your hotel in Positano, you'll stop for a guided tour of the ancient city of Pompeii. In 79 AD, the city was buried under 30 feet of ash when Mount Vesuvius erupted.
Day 2: The Famous Route 163 Drive
You'll spend the day driving along 'Route 163′, a masterpiece of human engineering that is carved into the cliffside along the Amalfi Coast. You'll stop at various points along the way, including a stop to taste two of the region's typical local products.
Day 3: Boat Trip to Capri Island 
Famous for its designer shopping, anchored yachts and Michelin-starred seafood restaurants, you'll head to the island of Capri. Beginning with a seafood lunch on arrival, you'll then spend the rest of the day exploring this island by Vespa!
Day 4: Naples to Tuscany
It's almost impossible to visit Italy and not squeeze in a Tuscany itinerary in 10 days. Today, you'll head deep into the Tuscan countryside to a spa and winery set within the rolling vineyards. In the afternoon, you'll embark on a unique journey through Tuscan villages on an Ape Tuk Tuk. This vehicle used by locals for over 60 years to navigate the narrow streets of the ancient towns.
Day 5: Hot Air Balloon over Tuscany
Wake up early to experience a hot air balloon ride over the scenic Tuscan countryside; it will be an experience like no other. After, your day will only get better as you spend the morning hunting truffles with a local guide followed by a Chianti wine tour!
Day 6: Explore Florence
Beginning in Repubblica square, the heart of the city, you'll embark on a walking city tour of Florence with a local guide. You'll visit the Accademia Gallery with the famous Michelangelo's masterpiece, The David, and more before enjoying a perfume-making experience in the afternoon.
Day 7: Onwards to Rome via Civita di Bagnoregio & Michelin Dining
Leaving the countryside, you'll head to Rome, stopping to visit the fascinating hill town of Civita di Bagnoregio en route. You'll then tour the major monuments of Baroque Rome before heading to a Michelin guide restaurant with an astonishing view of the Colosseum for dinner. 
Day 8: Vatican City Tour
The highlight of your day today will be when you attend a Pope audience. You'll spend the day in Vatican City, the world's smallest country and the centre of the Catholic world. You'll visit the impressive St. Peter's Square and Basilica as well as the Vatican Museums, Raffaello's rooms and the Sistine Chapel.
Day 9: Roman Cooking Class!
You'll start the day like a true local as you embark on a market tour of Rome's famous Esquilino market. It will be followed by a cooking class where you will learn how to cook the best Italian food. In the afternoon, you'll lay eyes on the mighty Colosseum and the Roman Forum. 
Day 10: Last Day in Italy
Depending on your flight time, you may have some free time to explore before your driver escorts you to the airport. 
Want to explore this itinerary further? Tap here to see the full itinerary. 
Want To Create Your Own 10-Day Trip to Italy?
With our team of trusted, in-destination Local Suppliers in Italy, you can design your dream trip. No matter how you want to spend your ten days in Italy, our Local Suppliers will design a trip that suits your budget and travel style. In no time, you can be exploring Tuscany on the back of a Vespa, sailing around the island of Capri or gazing up at the roof of the Sistine Chapel!
Browse our range of fully-customisable 10-day Italy tours today or design your own Italy trip from scratch with the help of one of our Local Suppliers.