Chances are Sapa Trekking will be your highlight of visiting Vietnam. Vistas of rice paddies, the country's highest peak (Fan Si Pan, 3,143m) and verdant green valley walls await you. Check out how the H'Mong tribe of people live, have locals harassing you to buy their handicrafts … and, erh, dodge landslides. Yep, it's a possibility but don't let that dampen your thirst for adventure. Trekkers from abroad have been tramping there for more than a century on and off. It can be hot, darn hot, by the way.
Vietnam is home to about 94 million people with just a third living in urban areas. The country spans about 331,000 square kilometres and borders China, Laos and Cambodia. Having been one of the world's poorest countries, Vietnam is now lower middle class.
In the Sapa region, you'll find several ethnic minorities such as the H'Mong (the 'h' is silent), the Dao and the Dai. (Don't assume they love having their pic taken, by the way). Some 350km northwest of Hanoi and in the Lao Cai Province, Sapa, population 600,000, is a gateway to the region. Having been established by the French as a cool summer refuge, it's now more of a tacky tourist town, with Vietnamese or European-style dining options plus a Saturday night 'love market' in Lao Cai (it's about dating, not like Ella Fitzgerald's "love for sale"). Make sure you check out the Gothic stone church in Sapa's centre, too. You won't find much about Sapa on the Vietnamese Tourist Bureau website, but there's one dedicated to Sapa here, tho' it needs updating. Check out its top 10 "attractive tourist destinations in Sapa".
This 17-minute vid will give you the virtual tour of the two-day walk in the Sapa region – which is what the average tourist covers. For foodies, check out the Food Network's Donal's tour of Sapa and the Bac Ha area. And you've probably heard of the H'Mong tribe – here's a short history and a more contemporary perspective. It's free to visit the Sa Pa Culture Museum, which is behind the tourist office.
How safe is it?
Travel advisories tell you to exercise 'normal safety precautions' in Vietnam, ie common sense. Be on the lookout for petty theft particularly in markets, bag slashing, aggravated theft, sexual assault etc including on the train to/from Lao Cai. Spiked food and drinks are a nasty to avoid, too. Be wary after withdrawing cash from ATMs and don't loose sight of your credit card when making purchases. You think you'll be safe in your hotel room? They've been reports of break-ins to hotel and homes even while guests are in the room. Vietnam has stiff penalties for drug offences, by the way.
Traffic accidents are common in Vietnam due to road rules – particularly in cities – considered optional. You are four times as likely to be killed in a motor vehicle accident there, than in Australia, for example. If you want to drive there, you'll need a valid Vietnamese driver's licence – they won't accept an international driver's permit issued in your home country. Sounds nasty, but if you're involved in an accident you could be up for hefty compo payments to the injured person and face criminal charges whether it's your fault or not. Might be best just to keep off the roads – trains are your safest option as even intercity buses are involved in plenty of accidents. Keep yourself updated about Vietnam in general via the English language Viet Nam News, or browse some more sites.
CONSIDERING A SAPA TREKKING TRIP?
Use Tripfuser to design your ultimate experience, and receive hand-crafted trips built by local experts
Make sure you check in with the cops, too
Something you might not be used to – all foreigners arriving in Vietnam have to register their place of residence with the local police within 24 hours of arrival. Your hotel management might be able to help with that, but they'll need your passport details. Don't think you have to leave your passport with them as they don't need to hold onto it legally.
Map out your territory to tackle
Map-wise, why not start with a Google map or this collection of maps for the Sapa region? To drill down, these maps will give you more detail about trek routes (we'll cover tours and accommo below). The two-day easy trek takes you along the main road to Muong Hoa Valley for an hour, then go downhill. From there you'll seek Fan Si Pan peak (if the weather is being kind to you), you'll cross a suspension bridge then trudge uphill to Y Linh Ho village where the H'Mong live. The path will be undulating for a couple of hours to reach another H'Mong village, Lao Chai, then Ta Van (home to the Zay people). Day two you'll go uphill past terraced rice terraces – some have been tended continuously for thousands of years, pretty much using the same well-honed techniques. Then it's walking through a bamboo forest to a waterfall before reaching Giang Ta Chai, the Red Dao people's village that overlooks Muong Hoa River.
There's a medium trekking option that adds a Cat Cat Village visit, too, or a challenging trek taking you to the top of Fan Si Pan Peak (see below). Twiddling your thumbs? Add a visit to the UNESCO World Heritage site, Halong Bay (aka descending dragon), with more than 2,000 islands/islets covered in jade forests. Check out the Thien Cung grotto (cave) and see floating fishing villages. It's also home to about 3,000 species of flora and fauna. Seaplane is one option to add Halong Bay to your tour or try the slow boat. You'd probably need to do a three-day-two-night tour to really appreciate Halong Bay and that will set you back about $US100 or could do it more cheaply like this traveller.
How to get there
You can reach Sapa from Hanoi either by train, car, bus or motorbike. Book these on your own or as part of a tour. If you have time on your hands, the overnight train would be a good option and a first class ticket is pretty cheap. Don't say we didn't warn you, but the cheaper train tickets will get you a hard narrow bed in the train, icy air conditioning and bumpy trip. You might think you've booked class, but could end up in one of these anyway. Here's a site to check out train prices for Vietnam and also allows you to book a taxi transfer from where the train drops you off – Lao Cai – to your final destination of Sapa. If you're not wild on taxis, they'll be a bus or minivan you could hop onto. Meanwhile, Hanoi to Sapa by bus will take you just six hours. That's usually a 'sleeper' overnight bus with recliners, no toilets – so there'll be quite a few stops to disrupt your sleep. If your ears pricked up at the sound of the motorbike option, you'll be wending your way over more than 300km. That could be done in a day, but spread it out to enjoy the vistas. You'll be hard pressed to motorbike legally in Vietnam as a foreigner, but it's easy enough to rent a bike (including from your accommo) for $US7 per day plus a $US250 deposit.
CONSIDERING A SAPA TREKKING TRIP?
Use Tripfuser to design your ultimate experience, and receive hand-crafted trips built by local experts
Choice of tours and accommo
Most folks do the trek over two days, but that's packing a lot in if you're not fit. As well, you'll need a couple of days comfortably to travel from Hanoi to the start of the walk – usually Ta Van Village. All up for about three days of trekking and two nights' accommo in a homestay could cost you for $65US to about $US120 including transport, meals and a guide. Travelling bloggers, The Roaming Renegades, describe the weather in the region as a "cruel temptress, changing hour to hour". If that's not a prompt to spread your visit out over a few days, well, we don't know! This video offers footage of the changing mist and cloudscape.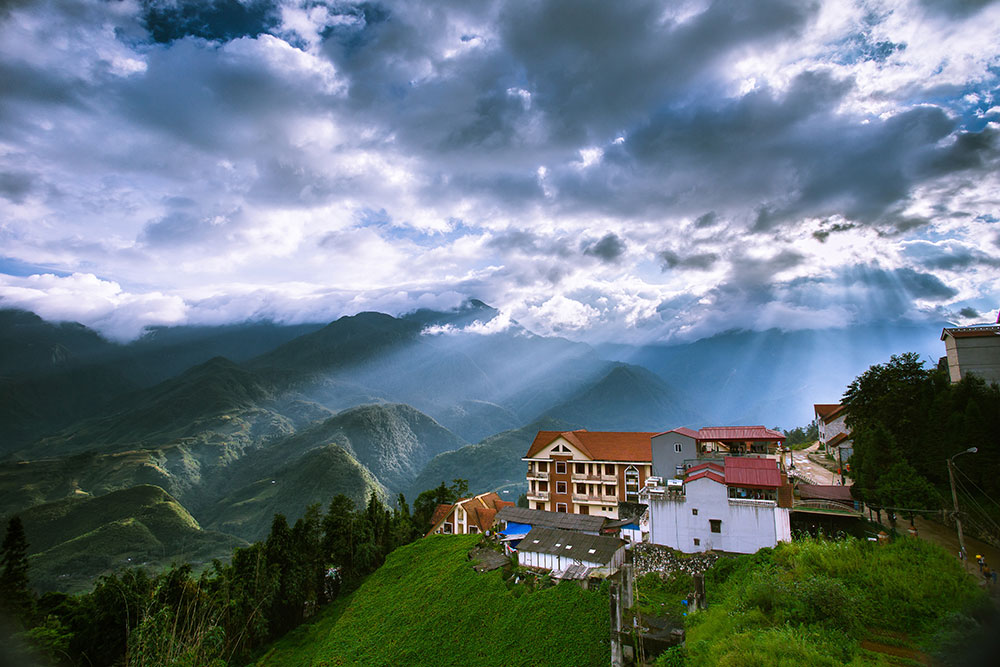 You generally don't have to tip. If you leave it to your hotel to organise a tour, they'll be getting a cut out of it too. Decide whether you want to travel as part of a group or go solo wolf with a guide.
You'll get what you pay for. Don't do what travel blogger, Andrea, of Scribble, Snap Travel did – get blasé while choosing a tour company. Use out checklist below. Keep in mind, too, that tour operators can be lax about safety, so don't hold back on insisting on minimum safety standards. If you haven't prebooked a trip before you land in Hanoi, trot around the Old Quarter to get a feel for the plethora of tours on offer.
Staying in a local's home aka homestay might be a good fit for you. Who knows, the homeowner may even double as a guide. There's actually a social enterprise and non-profit, Sapa O'Chau, that organises these and ploughs its funds back into helping support the H'Mong community. They might even take you off track and do some machete swishing to create a path for you.
If you've got your sights set on climbing Fan Si Pan, it's only 19km from Sapa, but the weather and terrain can make it a challenging trip. It's definitely one for those with mountain climbing stamina and depending on your energy level could take you one to three days. But you can still meander around the rooftop of Indochina, the peak Fan Si Pan, in the Hoang Lien National Park, which is an attraction in itself as a wildlife sanctuary for several species including the endangered. The park is also the location for the Cat Cat Village (traditional H'Mong tribe village) and the Ta Phin Cave (we'll let Donal show you this one again). Another highlight you might want to add is the Bac Ha Market in the town of the same name. Local products you are unlikely to find elsewhere plus vividly coloured costumes of minorities such as the Flower H'Mong, Black Dzao, Nung, Tay and Phu La are also on show. Throughout Sapa region you'll be tapped on the shoulder by locals to buy stuff, so you can let their insistence begrudge you or develop an appreciation for tourism being this region's lifeblood and stay polite.
When picking a tour company, have this checklist handy:
Where's your brochure?
What's your website's url?
Where can I find reviews of your tour?
What will the tour include? (you're hoping for accommodation, all meals, beverages, transport, transfer, and a local guide who speaks English)
Tell me about the accommodation – will I get my own room, how quiet is it, etc.
Will the meals cater to my dietary needs?
What's the itinerary?
How fit do I need to be to do this trek?
How many others will be on this tour with us?
What sort of accreditation does the tour company and guide have?
What's the cost?
What doesn't the fee include?
CONSIDERING A SAPA TREKKING TRIP?
Use Tripfuser to design your ultimate experience, and receive hand-crafted trips built by local experts
Stay healthy!
Shall we tell you about the health risks? Mozzie-borne Zika virus is still happening in Vietnam as is dengue fever (no vaccine or treatment for that one, sorry), Japanese encephalitis plus in some remote mountain areas, malaria is another risk. In those areas, too, rabies is a risk –vectors include dog, monkey or other mammal and all it takes is a scratch. The list goes on. Hand, Foot and Mouth Disease is common – mostly from March, peaks in May, but can still happen until October. Children under 10 are mostly affected, but it can get adults, too. Other issues include conjunctivitis, bird flu, cholera. OK, enough already. You've got the gist. Be careful out there! While we're at it boil all drinking water or drink bottled water, avoid ice cubes, don't eat raw or undercooked food and ensure you use good personal hygiene. The Centres for Disease Control and Prevention recommend you get vaccinated against the flu, typhoid, Hep A and B and because you'll be hiking, add the Japanese encephalitis vac to that, too. Other risks you'll have to manage when you get there are skin rashes or fungal infections due to the heat and humidity as well as sunstroke, sunburn and dehydration depending on when you're visiting.
Are you on prescription medicine? If it's worth more than $US100, you'll need to declare it at customs with the script that has your name, age, the medicine's name, volume and dosage, plus your doctor's signature and address. And speaking of entry, you'll need a visa to get into the country – check with your local Vietnamese consulate or embassy for that.
When to go
Do golden rice fields take your fancy? Then mark your diary for September as that's on the cusp of harvest time. If you love elbowing your way through hordes on the track, trek in summer. Otherwise, the best time would be March to May or from September to November. This AccuWeather site will give you the monthly lowdown for temps. In short, you could get four seasons in a day. Whatever season you visit, you'll need a raincoat is our advice.
What to pack
Pease don't think you can do this trek wearing trainers. Real hiking shoes are the go. If there any mud on the track, trainers will see you slide away, possibly spraining an ankle, for example – not worth the risk. That crucial lightweight rain jacket is something you can actually buy cheaply from the Sapa market. Spare shorts, T-shirts plus earplugs, sunscreen, insect spray and a small first aid kit are also handy. If visiting in winter, snow and cool temps are on the agenda so bring a proper jacket and long pants. Ditch you heavy luggage in Hanoi or your base so you've just got a day pack and a small bag when you're in the Sapa region.
While you're waiting …
So, are you hooked? This might nudge you over. With a smattering of words, Matt Dworzancyk's one-and-a-half hour documentary, 'Vibrant Highland, Commercial Love' takes you on a beautiful visual and aural journey of what you'll encounter Sapa from the treks to the people to the love market. Erh, he couldn't spot any couples anywhere, by the way. Feel like a fly on the wall in Vietnam. What's not to love?
CONSIDERING A SAPA TREKKING TRIP?
Use Tripfuser to design your ultimate experience, and receive hand-crafted trips built by local experts