Think remote islands with palm trees swaying over crystal clear waters, lapping up onto pristine white sand; an abundance of activities both above and below water; ancient tribal cultures, elegant colonial towns, dazzling landscapes and heart-warming locals; the Philippines is one of the world's most beautifully diverse archipelagos.
Made up of over 7,000 islands, only 2,000 of which are inhabited, this land built over water offers everything you could want from a tropical escape and more. If world-class diving, a fascinating mix of cultures,rainforest-clad mountains and volcanoes don't get you on a plane, the emerald rice terraces, abundant wildlife and tropical island living sure will.
While a majority of travellers come for the island hopping and incredible beaches, most fall in love with the Philippines for its unique cultural mix. A world apart from mainland Southeast Asia, the Philippines draws more similarities to Latin America than it does to its neighbouring countries. Its many ethnic groups and ancient tribal cultures contribute strongly to this, as well as the foreign influence on the country that comes through its history as a Spanish colony and, albeit briefly, an American one.
The country's Catholicism, a stark contrast to Southeast Asia's rich Buddhist and Hindu cultures, is a result of 350 years of Spanish rule. The widely-spoken English language, shopping malls and penchant for fast food are a nod to the rule of the Americans. However, despite this, the country retains its own unique personality. Filipinos are proud of this in all their sports-loving, karaoke-obsessed behaviours; they are some of the most warming and relentlessly upbeat people you'll meet.
Whatever draws you to the Philippines, you'll find a different adventure at every turn. A closer look at the best places to visit in the Philippines, its exuberant festivals and fascinating culture; this Philippines travel guide will have you keen to visit in the near future! That, we are sure.
The Best Time to Visit the Philippines
The Philippines has three seasons: the dry season (known as summer) spans March to May with temperatures of 35°C and higher; the wet season (or rainy season) spans June to November; finally, the cool season spans December to February.
The best time to visit the Philippines is the dry season. This is the peak season for diving as the water visibility is high; cyclones from July to October can seriously affect visibility. If you're looking to spot whale sharks and swim with them, then the best time to visit is between January and May.
Whilst the wet season is humid and hot with regular tropical downpours, travel is still possible during these months, and you'll find better rates for flights and accommodation during this time. Bear in mind, the most expensive time to visit is between March and May.
The Best Places to Go in the Philippines
The list of beautiful places in the Philippines is never-ending. With the help of the incredible Philippines tours put together by our trusted Local Experts, we're able to narrow down the worthwhile tourist spots in the Philippines, which islands to head to and a handful of the unmissable experiences.
The beauty of the Philippines is that every person -no matter your travel style, budget or interests- can have an unforgettable experience on a trip here. Read on to be enchanted;
The Megacity of Manila
The 'Pearl of the Orient', the city that bustles with people, street vendors and Jeepneys, the charming Spanish colonial architecture in hidden corners of the city and the place you'll most likely use as your jumping-off point to the Philippines archipelago; this is Manila.
Manila's unappealing shell means most will fly in and jet out to their first destination as soon as they can. However, Manila is worthy of more time. Beneath the surface of this crammed megacity, you'll find its creative soul, its budding live music scene, its speakeasy bars and artisan markets.
On this 10-day Boracay and Manila tour, you'll spend half a day touring Intramuros, one of the best places to visit in Manila, the old-world part of the city home to iconic Spanish-era landmarks such as Fort Santiago and the ornate Manila Cathedral. You can then venture deeper into the city's central district, Makati, before taking a day trip from Manila to the Taal Volcano.
The Majestic Banaue & Batad Rice Terraces, North Luzon
Often missed off most travellers' Philippines travel itineraries, North Luzon is the mountainous region which is very much worth a visit alongside the pristine beaches and cobalt seas that draw us in.
The province of Ifugao is home to multiple UNESCO-listed rice terraces and most of the tourist spots in Luzon. This mountainous region has grown in popularity with both international and local travellers due to its rich culture, untouched scenery, welcomed cool weather and warm local people.
Listed as a UNESCO World Heritage Site, the Banaue Rice Terraces are a majestic highlight of any North Luzon tour. If you have time, just beyond Banaue, you'll find the Batad Rice Terraces which are just as beautiful but a lot less crowded as they do not have the UNESCO stamp.
The Fascinating Caves of Sagada
The home of the infamous hanging coffins, Sagada is a place you may have heard about before you even realised it was in the Philippines. The Igoret tribes of the north of the Philippines have long held the tradition of nailing the coffins of their deceased to the sides of cliffs and within caves. As opposed to burying them, it is believed that this way, they will be closer to heaven.
Nowadays, the 2000-year-old tradition is slowly dying out (excuse the pun), so you have the rare chance to witness this tribal practice by visiting the Lumiang Cave of Sagada where over 200 coffins are nailed to the walls of the cave, having been there for over 500 years!
Witness this eerie yet fascinating practice on this 4-day Manila to Sagada cultural tour with a Philippines guide.
Island Vibes in Siargao
If you're going to go island hopping in the Philippines, you'll definitely want to make sure Siargao is on that itinerary. Arguably one of the most beautiful and best Philippines islands, Siargao is the country's surf capital. A penchant for great surf draws a crowd of relaxed travellers, barefoot living and sublime island vibes.
Just a short hour flight east of Cebu, Siargao offers everything you could want from an island escape and more. Relax in paradise on this Siargao island hopping tour.
The Pristine Sands of Boracay
Measuring just seven kilometres in length, and four kilometres of that is taken up by the stunning White Beach, Boracay is a tiny tropical island in central Philippines with a huge reputation.
Renowned for its pristine beauty and with its sudden rise in popularity risking this, the government made the decision back in 2018 to close the island for a six-month period of restoration. Following this, the island now limits visitors per year to make sure it stays as beautiful as it is.
To watch the glorious sunset, snorkel from cove to cove and take part in the abundance of water sports from kayaking to diving on offer, you'll need to make sure you book everything in advance. Alternatively, to let someone else take care of everything for you, you can design your Boracay tour package with a Local Expert.
Scuba Diving & Island Hopping in Coron
With a landscape reminiscent of a scene from a Jurassic Park film, Coron sits in the beautiful province of Palawan, a four-hour boat journey or a short flight from El Nido on the main island.
The dragon-spine-like rock formations clad in thick jungle rise high against a background of dazzling blue skies and turquoise lagoons which sit below them. Experienced scuba divers, and even those with an intrigue, are presented with some of the most incredible diving experiences in the world. In Coron, dubbed the shipwreck capital of the world, you'll have the opportunity to dive the famous Second World War Japanese shipwrecks. Back in 1944, a US airstrike sunk 24 Japanese ships, 12 of which, you can dive today.
Along with the stunning Barracuda Lake, Kayangan Lake and several stunning lagoons, Coron is entirely bucket-list worthy. This Coron island tour takes you to the best spots on this island and more!
The Hub of the Philippines, El Nido
From one Palawan paradise to the next, El Nido and Coron go hand in hand as two of the top tourist destinations in the Philippines. Similar to Coron, El Nido is the place to get your jaw-dropping landscape fix as well as a great dose of the tropical island life.
From the bustling ramshackle town to the secret beaches, epic sunset spots and charming restaurants, you could spend your entire trip in El Nido and leave happy. An El Nido island hopping trip is a must whilst here. You'll have your pick from multiple trips which take you to iconic destinations that look like they've been edited in real life including 7 Commandos Beach, Snake Island and the Small and Big Lagoon.
Take a trip to the tropical town nestled between immense limestone cliffs and see what all the fuss is about, El Nido tours don't come better than this!
Swim with Whale Sharks in Cebu or Donsol
Swimming with whale sharks is a dream of many. The chance to do so in their natural environment is presented to you in two destinations in the Philippines, Oslob or Donsol. However, these experiences come with a warning. Unfortunately, due to tourist demand, the whale sharks have been baited in order to make them come to this certain spot in Oslob, Cebu.
Donsol is the more ethical option as this was the natural route that the whale sharks would take during their migration landing here between January and March every year. However, over the years the numbers have gradually decreased, but you still have good chances of swimming with the whale sharks this time of year.
Sardine Run in Moalboal
Snorkelling in Moalboal is one of the greatest experiences in the Philippines. Not only is it an underwater haven for divers and snorkellers with a wide variety of marine life, but Moalboal is also the centre stage for the second-largest sardine run in the world!
Between spotting sea turtles, you'll be able to witness the incredible sight of giant schools of sardines moving poetically through the water around you. A Cebu island hopping trip is certainly one for the bucket list!
Siquijor
Known as the mystical island of the Philippines, Siquijor sits in the Central Visayas Region. A strong sense of shamanism surrounds the island and its people; locals often come to the island with the intention of reversing a curse they believe has been set on them, casting a curse on another or even for love potions.
Whilst the sense of magic is evident on this island; travellers flock here for its dreamy waterfalls, laid-back atmosphere, countless palm-fringed beaches and adventure-filled days. A trip to Siquijor makes an excellent add-on to your Cebu travel itinerary.
Chocolate Hill, Tarsiers and Paddle-Boarding in Bohol
With the Philippines' stunning beaches being top of the list for most, Bohol -and particularly the sleepy town of Loboc- is often crossed off the itinerary in favour of something a little more coastal. However, you're missing out a wealth of adventure if you don't venture past the typical tourist spots to special places like Bohol.
Home to the famous Chocolate Hills, the unusual domed hills which have been coined this name due to the colour they turn during the summer, and the adorable Tarsiers, the world's smallest primate found in a sanctuary here, Bohol is an island of surprises.
If you can't tear yourself away from the beach, some of the best island hopping and diving opportunities lie just south of Bohol on the adjoining island of Panglao. In between island hopping, you can venture north to explore the jungle, travel through local villages, hunt down waterfalls and go paddleboarding on the Loboc River. All unmissable Bohol tour experiences.
How to Get Around on Your Philippines Holiday
Getting around the giant archipelago that is the Philippines takes some forward planning. It is inevitable that if you plan to visit more than one island (of course you will), you'll have used all modes of transport by the end of your trip!
Here's a breakdown of the best ways to get around the Philippines;
By Air
Due to the spread of the islands in the Philippines, it is inevitable that you'll take a domestic flight or two during your trip. The best places in the Philippines can be a flight, ferry and boat ride from each other but are certainly worth the effort it takes in travel.
Bear in mind that flight delays are common, so don't be too tight on time with connecting transport or activities. When arriving, most Philippines tours will begin in Manila, then involve an internal flight to your next destination.
By Bus & Boat
Catching a ferry to a different island is a very common mode of transportation in the Philippines. With the influx of tourism over the past decade, there are many fast boats operating between major routes in the Philippines, such as the journey from El Nido to Coron.
For longer journeys, taking an overnight ferry can significantly reduce your travel costs; however, it's not recommended as some journeys can take up to 28 hours. When internal flights are very reasonable, in this case, it would be better to fly.
When on the islands, using buses to get around is the cheapest form of transportation. For travel within the main islands, bus travel is very reliable. Booking buses and boats in advance is common and wise to do so.
By Jeepney, Tricycle & Motorbike
You'll see these colourful, converted jeeps as soon as you arrive in the Philippines before you even know what they are used for. Jeepneys are the local's version of hop-on-hop-off buses. They follow set routes and are the best way to get around town. Simply jump on the back and pass your money to the driver, you may even have some nice conversations with locals during our journey.
For short distances, tricycles, similar to tuk-tuks, will be your next convenient option. You can bargain for the price of this transport, and it's wise to agree on a price before you get in.
In some areas such as El Nido and parts of Bohol, it is recommended that you hire a scooter or motorbike to drive yourself around. Obviously, make sure you have an international driving license, and your travel insurance covers you for driving a scooter.
Where to Stay on Your Philippines Tour
Standards of accommodation vary wildly in the Philippines. The term 'hotel' is a label stuck on everything from beach huts and local guesthouses to five-star luxury resorts, so make sure to do your research before booking a room. Beach resorts follow the same theme in that they can vary from wooden one-bedroom cottages to exclusive empires with their own spa and four restaurants.
Most accommodation takes the name of beach resorts or hotels. Campsites, hostels and homestays are few and far between in terms of officiality, but you'll find they do exist under different names. Most accommodation can be easily booked in advance with a tour operator or online, and prices are usually just a fraction more of that in the rest of Southeast Asia, but the differences are marginal.
Must-Try Food & Drink on Your Trip to the Philippines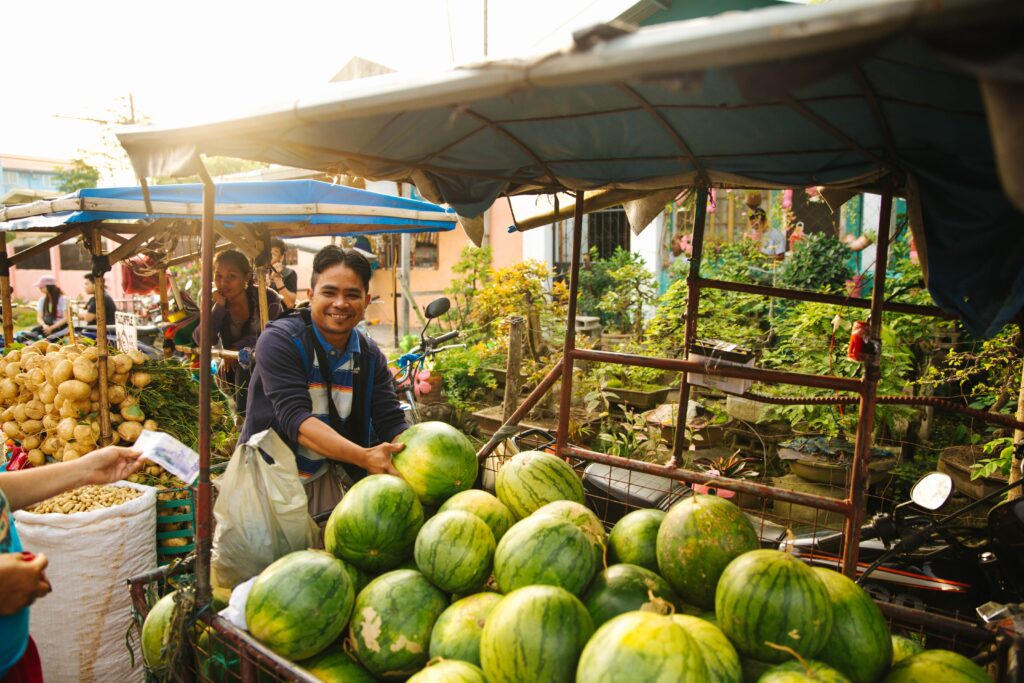 Around the world, Filipino food doesn't have a great reputation. At first, it can seem a little lacklustre, however its never-ending variety and combinations of homemade sauces, fresh meat and fish and fruits and vegetables will soon grow on you.
Like most Asian countries, rice and noodles are the main staples of almost every dish in the Philippines. You'll rarely be given a knife as a fork and spoon will suffice for every dish; the meat and fish are usually cut into small bite-size chunks.
One thing you can count on is that Filipino food is cheap; you can expect local meals to cost as little at $1. Filipinos also love to eat and celebrate their cuisine, so expect to find scrumptious dishes all over the country. Here's a selection of the must-try dishes;
Adobo
The national dish, adobo is pork, fish or -most commonly- chicken marinated in vinegar, soy sauce and garlic and served in a herb-filled sauce with rice. You can expect to find this dish in every destination on your Philippines itinerary.
Sinigang
Both sweet and sour, Sinigang is a traditional Filipino stew consisting of a tangy yet mouthwatering tamarind broth filled with vegetables and herbs. Pork, beef, fish or shrimp is then added to the stew. You'll find this dish varies depending on where you are in the Philippines.
Lechon
The king of international cuisine, the late Anthony Bourdain, once raved about Filipino pork. Lechon is a broad term for spit-roast pork in the Philippines and is a result of the Spanish influence on the country. Whilst you'll find lechon all over the country, it is a must-try on the island of Cebu and on your Manila holiday.
There are endless ways to enjoy lechon once it has been roasted; a favourite is 'lechon kawali' which is crispy fried pork belly served with dipping sauces.
Sisig
The dish that you hear before you see; the sizzle of the hot plate of sisig will be audible before you see it when you order it in a restaurant. Sisig consists of roughly chopped pig's cheeks and ears as well as chicken liver thrown in a hot cast iron plate with onion, chilli and topped with a raw egg. The egg is adding just before serving and cooks as you stir the dish. A squeeze of lime over the top and you're ready to tuck in!
Balut
Snacking is a significant part of the Filipino diet. If you are offered a snack by a local, you should always accept. One of the most famous street food snacks is balut, a boiled duck embryo. These eggs are fertilised and have been allowed to incubate for 14-18 days before being boiled.
Certainly not a snack for those with a sensitive stomach, when you crack open the shell of balut, you're likely to see an embryo well on the way to becoming a duckling, beak and all. Mixed with a bit of vinegar, salt and chilli and eaten in one is the best way to enjoy this dish.
Seafood
As a country built over water, seafood is a must in the Philippines. Seafood is worked into a variety of traditional dishes such as squid adobo or shrimp in tamarind soup. Kinilaw is a raw fish ceviche which is a delicious Latin-American-inspired dish which you must try. In Dampas, on the island of Bohol, seafood is freshest at the markets where you can choose your fish and watch as it is prepared and cooked in front of you.
Halo Halo
For those with a sweet tooth, the Filipino dessert, halo halo, definitely delivers. Directly translating to 'mixed together', this dish consists of a base of ice shavings and evaporated milk, topped with goodies such as mango, lychee, sweetened beans, sugar palm fruit, jackfruit, sweet potato, coconut, guava paste and more. There are no limits to this dessert!
Major Festivals & Events in the Philippines
The Philippines is, uniquely, the only Christian nation in Asia. Over three-quarters of the country's population is Roman Catholic. The result is that every community in the Philippines, from tiny villages to metropolis neighbourhoods has numerous festivals each year to celebrate a patron saint, honour a biblical character or give thanks for a harvest.
If you can, it is well worth the effort to time your visit to witness a major festival or event in the Philippines. They are explosions of colour, dancing, feating, street parties and costumes. The key festival months are between January and May.
To list all of the festivals in the Philippines would take days but here's a selection of the largest and most colourful festivals in the country;
Sinulog Festival, January
Celebrated on the third Sunday of January in the city of Cebu, Sinulog festival (or Santo Nino festival as it's also known) is a celebration in honour of the Santo Nino, an image of Jesus as a baby. Celebrations include a huge street parade, street dancing, live music and, of course, plenty of food and drink.
Ati-Atihan, January
Ati-Atihan is a celebration of the ancient last pact between settlers and the indigenous Atis that usually takes place in the second week of January in Kalibo. This Mardi Gras-style festival is one of the biggest in the country and involves street dancing, wild costumes and feasting.
Flores de Mayo, May
Celebrated throughout May, Flores de Mayo is one of the biggest nationwide festivals. In honour of the Virgin Mary, religious parades ensue with young girls dressed as various 'accolades of Our Lady', including charity, faith and hope.
Boracay International Dragon Boat Festival, April
Each year, a Filipino version of the giant dragon-boat race, which takes place in Hong Kong, comes to the tiny island of Boracay in the Philippines. In this local version, long wooden canoes set off from Boracay's White Beach on a set course and both domestic and international teams compete.
Quick Tips & Facts for Philippines Travel
Currency: In the Philippines, the currency used is the Philippine Pesos (PHP). At the time of writing, November 2020, $1 USD was equivalent to 48.30 Pesos.
Language: The main language in the Philippines is Tagalog (Filipino) but many of the islands have their own indigenous languages and dialects. However, due to the western cultural influence, English and Spanish are widely spoken and very well at that.
Tipping: There is no tipping culture in the Philippines, so a tip will never be expected. However, if you enjoyed the meal or service from a local, a tip will always be appreciated.
Religion: The main religion is Christian, with over 86% of the country's population being Roman Catholic. There are also communities of Muslims in the Mindanao area of the country.
Safety: The Philippines is often tarnished as an unsafe destination in the media; however, that is simply not true. It is strongly recommended that you avoid the deep south tip of the Philippines, Mindanao Island, due to civil unrest, but the rest of the Philippines is very safe.
Visas: Upon arrival, most nationalities will be granted a 30-day Visa on Arrival. Make sure to have at least six months left on your passport validity and an outbound ticket to show that you'll be leaving within 30 days. It is possible to extend this visa to 60 days.
Losing Face: Known as amor-propio (love of self) in the Philippines, avoiding losing face is extremely important in social etiquette. Try not to get visibly angry with locals as it won't be received well.
Ready to Plan Your Philippines Tour?
Planning your Philippines travel itinerary couldn't be easier with Tripfuser. Our trusted Local Experts in the Philippines are exactly that; experts at combining local experiences with bucket-list-ticking destinations and adding a touch of finesse to trips that only locals could put together.
Whatever you're looking for in your trip to the Philippines, our Local Experts can tailor a trip to suit you. Whether you decide to customise one of our Philippines tours or design your own Philippines trip from scratch, our Local Experts will work with you to ensure it suits your budget, travel style and interests!